Dive into Hilarity with Top Political Humor.
In politics, honesty is like a rare unicorn – everyone talks about it, but no one actually believes it exists.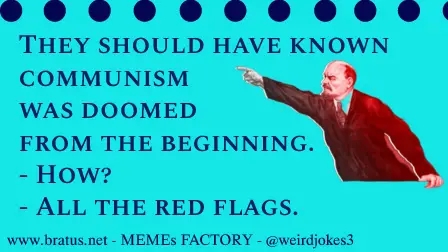 Add a touch of sweetness to the bitter political discourse.
What happens when you give a politician Viagra? He gets taller. 😏
Did you hear about Monica Lewinsky becoming a Republican? The Democrats left a bad taste in her mouth.
Q: How many politicians does it take to change a light bulb?
A: Two: one to change it and another one to change it back again. 💡
Three contractors are bidding to fix a broken fence at the White House. One is from Chicago, another is from Tennessee, and the third is from Minnesota. All three go with a White House official to examine the fence. The Minnesota contractor takes out a tape measure and does some measuring, then works some figures with a pencil. "Well," he says, "I figure the job will run about $900. $400 for materials, $400 for my crew, and $100 profit for me." The Tennessee contractor also does some measuring and figuring, then says, "I can do this job for $700. $300 for materials, $300 for my crew, and $100 profit for me." The Chicago contractor doesn't measure or figure, but leans over to the White House official and whispers, "$2,700." The official, incredulous, says, "You didn't even measure like the other guys! How did you come up with such a high figure?" The Chicago contractor whispers back, "$1000 for me, $1000 for you, and we hire the guy from Tennessee to fix the fence." "Done!" replies the government official. And that, my friends, is how the new stimulus plan will work.
When asked if they would have sex with Clinton, 86% of women in D.C. said, "Not again."
A little boy goes to his dad and asks, "What is politics?" The dad says, "Well son, let me try to explain it this way: I'm the breadwinner of the family, so let's call me capitalism. Your mother, she's the administrator of the money, so we'll call her the government. We're here to take care of your needs, so we'll call you the people. The nanny, we'll consider her the working class. And your baby brother, we'll call him the future. Now, think about that and see if that makes sense." The little boy goes off to bed thinking about what dad had said. Later that night, he hears his baby brother crying, so he gets up to check on him. He finds that the baby has soiled his diaper. The little boy goes to his parents' room and finds his mother sound asleep. Not wanting to wake her, he goes to the nanny's room. Finding the door locked, he peeks in the keyhole and sees his father in bed with the nanny. He gives up and goes back to bed. The next morning, the little boy says to his father, "Dad, I think I understand the concept of politics now." The father says, "Good son, tell me in your own words what you think politics is all about." The little boy replies, "Well, while capitalism is screwing the working class, the government is sound asleep, the people are being ignored and the future is in deep shit."
We used to have Reagan, Jonny Cash, and Bob Hope. Now we have Obama, no cash, and no hope. 🤣
Politicians and diapers have one thing in common: they should both be changed regularly… and for the same reason.
Q: Have you heard about McDonald's new Obama Value Meal?
A: Order anything you like and the guy behind you has to pay for it. 🤑
If con is the opposite of pro, then is Congress the opposite of progress ? 😎
Because sometimes a good joke is the only thing that can make politics seem bearable!
This post is on a laughter break. Stay tuned for some hilariously creative content!
Even amidst the chaos of politics, humor can be found.
This post is on a laughter break. Stay tuned for some hilariously creative content!
Perfect for political junkies and anyone who loves a good laugh!
This post is on a laughter break. Stay tuned for some hilariously creative content!