Random sarcastic joke:
People who argue on their cell phones in public should have to do it on speakerphone so the rest of us can get both sides.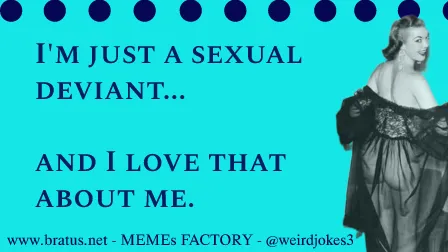 Selected sarcastic jokes:
More sarcastic jokes...
A well dressed and wealthy looking couple entered an inline skate store somewhere in the more affluent part of Hollywood. The store clerk greets them warmly:"Good morning Sir, Madam. Please feel free to browse and I will be here if you require assistance", obviously smelling some commission.

"Thank you", acknowledged the couple and soon after they returned to the store clerk with a pair of Dunlop inlines.
"We'll take these", announced the husband
The somewhat snooty store clerk was mildly taken aback said:"Sir I can tell you're here to do business and not waste anyone's time, so why not look at our more exclusive range? We have the best in Nike, Adidas, Reebok, Spalding and many more. Why are you settling for Dunlop's?"

Husband replies:"Oh it's for our daughter's birthday. She just became a teen and this is her first pair of skates. We are happy with the Dunlops for now thank you.", and on that note they paid and left.

Moments later another customer enters and the clerk says:"Morning and welcome. Please feel free to look at our exclusive range with only the best names in sport"

The customer replies:"I just need a pair of cheap skates for every day use"

Clerk signals to the door with his head and said:"Sorry sir, but the last pair just left the shop..."