Laugh your way to dreamland.
"I love sleep. It's my favorite thing to do when I'm not awake."

- Ellen DeGeneres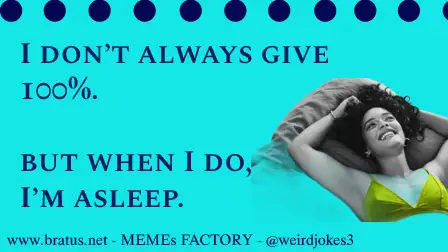 Sleep Jokes: Where humor meets the land of nod!
Meditation is basically a "don't fall asleep sitting up" challenge.
Body: we're going to bed.

Brain: that doesn't mean we're going to sleep.
I was downtown when approached by a woman!

She said "how would you like to sleep with me for $100."

I said "I am not that tired but I could use the money!"
I always set two wake up alarms... one for the person I want to be and one for the person I am.
A long nap always hits best laying on the couch on a rainy day.
I used to take naps on a bike until someone stole the tires. They really messed with my sleep cycle.
I've been having strange dreams of me sitting in a canoe, that's five nights in a row now.
The most comfortable sleeping position is the one you snuggle into, after turning off your alarm.
Life is just a series of obstacles preventing you from taking a nap.
Had one dream of me drowning in a Japanese seafood dish think I might be sushicidal.
Get your daily dose of giggles and good night's sleep.
How do you please a woman in bed?

Let her sleep!
IF you ever get caught sleeping on the job, slowly raise your head and say "In Jesus name, Amen."
I haven't slept in 10 days.

Good thing I sleep at night
You miss 100% of the naps you don't take.
A good nap helps to break the day up into manageable portions.
me: I always sleep naked

flight attendant: no
FUN Fact:
Koalas sleep for 22 hours a day.
Regular naps prevent old age..... especially if you take them while driving.
I like sleeping because its like being dead, without the commitment.
𝘚𝘭𝘦𝘦𝘱 𝘪𝘴 𝘨𝘰𝘰𝘥, 𝘥𝘦𝘢𝘵𝘩 𝘪𝘴 𝘣𝘦𝘵𝘵𝘦𝘳; 𝘣𝘶𝘵 𝘰𝘧 𝘤𝘰𝘶𝘳𝘴𝘦, 𝘵𝘩𝘦 𝘣𝘦𝘴𝘵 𝘵𝘩𝘪𝘯𝘨 𝘸𝘰𝘶𝘭𝘥 𝘵𝘰 𝘩𝘢𝘷𝘦 𝘯𝘦𝘷𝘦𝘳 𝘣𝘦𝘦𝘯 𝘣𝘰𝘳𝘯 𝘢𝘵 𝘢𝘭𝘭.

—𝘏𝘦𝘪𝘯𝘳𝘪𝘤𝘩 𝘏𝘦𝘪𝘯𝘦
Snooze and amuse with Sleep Jokes!
I can't sleep in hotels. I have innsomnia…
I read that pigs only sleep on their right side. Which finally explains why I can never get your mom to roll over.
I recently saw an advert for a sleep prevention device,

I thought it was a real eye opener.
I know he didn't dream of me because he slept well.
Boss: We need to talk about your lack of productivity.

Me: Can it wait until after my nap?
How is it possible to go without sleep for seven days and not be tired?

You sleep at night!
Some people take sleep so serious, they even buy pajamas.
Did you hear about the boy who slept with his head underneath his pillow?

When he woke up, the tooth fairy had taken all his teeth!
I am in love with my bed, but my alarm clock will not let us be together.
Sleep feels the way pizza tastes.
Wake up refreshed and laughing with Sleep Jokes!
"I dream of painting and then I paint my dream"
- Vincent van Gogh
What should you do if you can't get to sleep?
Lie on the edge of the bed, you'll soon drop off!.
Sleep is for losers, we overthink.
I sleep in the past tense, the rest is history.
I almost put my foot on the bathroom sink earlier, then remembered I'm not a millennial.
I put music on when I go to bed so I can get a sound sleep.
Me: Finally gets 8 hours of sleep.
My neck and my back: Congrats but you did it wrong.
Life is just a series of obstacles preventing you from taking a nap.
Every time I think I finally have the life I always dreamed of... I wake up.
When I go to sleep
I smell of strawberries
that's because
I wear pyJAMas.
Bedtime just got funnier with Sleep Jokes!
I wish I was a little kid so I could take a long nap and people would just be proud of me.
If you see someone over 40 out in public after 9pm, they 100% took a nap earlier in the day.
I plan my entire day around the possibility of a nap.
I'm thinking of starting a group for insomniacs if anybody's up for it.
When I was a kid I remember I fell asleep in the couch and woke up in the bed, now I fall asleep in the couch and wake up on the floor.
Sleeping next to someone you love makes you fall asleep faster, reduces depression, and helps you live longer.
UNTIL THEY START TO SNORE.
If your pillow fort hasn't got a Nerf gun armory, then you're not taking pillow forting as seriously as you should be.
I wake up every morning with the joy and excitement of wanting to go directly back to sleep.
I accidentally went to bed with my contact lenses in the other night. My dreams have never been clearer.
I go to bed with my headset on so I can get a sound sleep.
Making dreams come true... and making you laugh!
Fell asleep on my smartphone the other day.
I had downloaded a napp.
When life gets you down, just remember:
It's never too early or too late for a nap.
My wife asked me if I took a nap.
I said, I have no idea. I was asleep!
If you listen real closely, you can hear my alarm clock laughing as I set it.
My favorite thing about naps is that I don't have to talk to people during them.
Anger, Denial, Bargaining, Acceptance, Depression... The 5 stages of waking up.
What do you call a sleep walking nun?
A Roman Catholic.
People say 'go big or go home' like going home is a bad thing. Hell yeah I wanna go home and take a long nap when I get there.
Why does the clown always have a stiff neck?
Because he sleeps funny.
I love sleeping so much that it is the first thing I think about when I wake up.
Unwind, relax, and giggle your way to sleep.
Overthinking yourself to sleep is the adult version of a bedtime story.
I had a dream I was a plumber. It was just a pipe dream.
Who needs drugs when you can be delirious from going 48 hours without sleep?
I slept so badly last night I started reading the dictionary.
By 4am I was past caring...
I could defuse a bomb if it sounded like an alarm clock and I was sleeping.
I missed my nap today,
I slept right through it.
If anyone has ever told you that you snore, just know that person has very carefully weighed the pros and cons of letting you live.
Fell asleep at the muffler shop again. Woke up exhausted.
Up at 5am, 8km run completed, got home, prepared a vegetable smoothie for breakfast...
Don't remember the rest of the dream...
Insomnia is very common, try not to lose any sleep over it.
Sleep Jokes: Where comedy and slumber collide for a hilarious night's rest!
If my superpower was to be able to stop time, I'd totally use it to take a nap without people noticing.
I have difficulty sleeping at night because I lay awake obsessing over life's mysteries... like how exactly does paper beat rock?
I wake up every morning with the joy and excitement of wanting to go directly back to sleep.
I get blamed 40% of the time. The other 60% I'm asleep.
For years my wife complained about my snoring, and for some $2 earplugs, I've managed to sort it out. I can't hear her moaning now.
The average sleep required by an average person is 'five minutes more'.
I have no sex appeal; if my husband didn't toss and turn, we'd never have had the kid.
Sleep is death without the responsibility.
Mike Tyson sleeps with a nightlight…not because he's afraid of the dark, but the dark is afraid of Mike Tyson.
Me: "Let me sleep" – Brain: "lol, no, let's stay awake and remember every stupid decision you made in your life."- Me:"Okay"