Blow off some steam.
"Oral sex is like a box of chocolates – you never know what you're going to get, but it's usually pretty sweet."
- Tom Hanks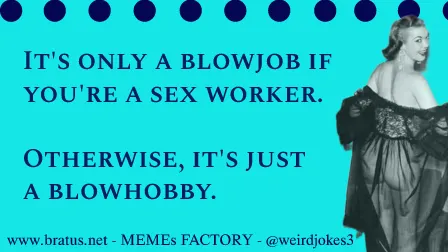 Where the punchlines come fast and hard – Blowjob Jokes!
She swallows so many kids, so I started calling her pennywise.
My new girlfriend said it would be at least six months before she'd consider giving me oral sex......

I told her that I fully understand and respect her decision and that I will call her again nearer the time....😂
Medical fact: If a woman drinks two glasses of wine a day it increases the chance of a stroke.

If you let her finish the bottle she'll probably suck it as well.
It is not called a gnawjob for a reason...
When it comes to big boobs or small boobs, men prefer blowjobs.
Well as Xmas is coming upon us I'm looking for a job

Preferably a bl#w job.
Q: What did the hurricane say to the coconut palm tree?
A: Hold on to your nuts, this is no ordinary blowjob!
RIP to my hair dryer. It was the only thing to blow me for the last 10 years and never complain.
What does a glory hole and a confessional booth have in common?
Blowjob is anonymous.
What's the best thing about midgets??
They don't need to bend while giving blowjobs.
Blow off some steam with the funniest oral sex humor around!
Son: Dad do you remember your first blowjob?
Dad: Ohhh yeah I do!
Son: How did it taste?
Dad: Get out.
If 2 nuts on the wall are walnuts And 2 nuts on your chest are chestnuts What are two nuts on your chin?
A blowjob.
There's no business like Show Business. There's no job like a blow job.
Q: What's the definition of trust?
A: Two cannibals giving each other a blowjob.
Q: Why did the blonde fail at being a prostitute?
A: Because she gave blow-jobs literally.
Q: How can you tell when you've had a really good blowjob?
A: You have to pull the sheets out of your ass.
Q: Whats the differance between a roast beef sandwich and a blow job?
A: You don't know? soooo...you wanna do lunch tomorrow?
Q: How do you know if your boyfriend has a high sperm count?
A: You have to chew before you swallow!
Q: What do you call a Christmas blowjob?
A: Egg noggin.
Q: Whats comes after 69?
A: Mouthwash.